Philipp Lenssen has written a fun little book about fun things to do with Google.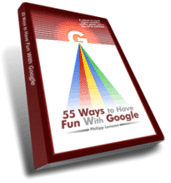 The 55 chapters searching games, graphical games, Google history, Google trivia, Google gadgets, Googledromes and more.
The second-best thing about this book is that Philipp has released it under the Creative Commons Attribution-NonCommercial-ShareAlike 2.0 license, which means that you are allowed – encouraged even – to copy, read, share, remix, convert, quote, browse, and print the PDF to your liking. (Philipp asks that if you do create conversions, e.g. an HTML version, please send him the URL.)
You can download the PDF for free, or buy the paper book. The paper version is certainly easier to read on the train, but somehow I think this book is best read on-screen from the PDF, with a Google window open to the side of it so that you can try everything out as you read about it.
I've saved the best thing until last. Look what I found tucked away on page 154: