Monday, July 31st, 2006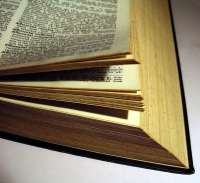 A popular genre of questions at Google Answers is translations from English to Latin.
Sometimes the questions are driven by personal curiosity, sometimes the translations are related to schoolwork, and some are motivational messages. Sometimes someone just wants a pompous-sounding byline for a website, and a surprising number are messages of love.
Since the Google Answers service started, around 200 such questions have been answered, at prices ranging from $2 to $60.
The following translations were for tattoos – better get those ones right!
Nearly as critical was this one, to be engraved onto an Ipod as a gift:
Here's just a tiny sample of the rest:
There are many more.
Researchers providing these translations included hlabadie-ga, guillermo-ga, pinkfreud-ga, tutuzdad-ga, juggler-ga, livioflores-ga, but mostly alanna-ga who also provided two further links of interest: Latin phrases used in English, and Latin proverbs and locutions.
I've don't speak Latin myself, but back when I was at school my friend Neil used to quote ridiculous Latin phrases. One of his favourites was Quanti canicule ille in finestre? which translates as How much is that doggie in the window? and can be found with other similar nonsense at Latin Phrases and Expressions.
(photo by Sanja Gjenero)