Google has launched a news archive search that searches across two news databases:
The archives of the Google News service, and
The historical archives of print publications such as the Washington Post, New York Times, Newspaper Archive, Time Magazine, the Boston Globe and many more.
Most of the older articles are subscription-only or pay-per-view, but there are also some freely-viewable historical pieces from BBC News, Time Magazine and the Guardian. Every article, pay or free, has a two-line snippet which is sometimes useful in its own right.
There is also an advanced archive search where you can search by date or by source, and can exclude articles known to require payment.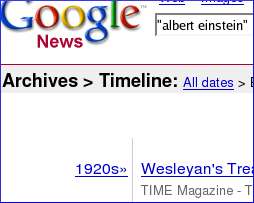 What makes the archive search particularly interesting is that you can browse a timeline view. You can see how a subject has developed over the decades, from the 1800's to the present day.
For example, a search for "Eiffel Tower" shows a host of articles dating from 1889, including these quirky ones:
Eiffel Tower as a Winter Resort (1890)
"The Eiffel Tower bicycle is the newest sensation among the wheelmen of Berlin…" (1896)
Miniature Eiffel Tower displayed in Shoe Heel (1936)
German climbs Eiffel Tower, wins a Bath (1954)
Tom Cruise proposes to Katie Holmes at Eiffel Tower (2005)
(via Reto Meier)