Did you know that Wikipedia also offers an "Answers" service? Who would have thought it?
Whilst reading Wikipedia's entry for Google Answers I was surprised to see Wikipedia Reference Desk listed as an alternative to Google Answers.
Wikipedia Reference Desk has six subsections: Humanities, Science, Mathematics, Computing/IT, Language and Miscellaneous. In true wiki style, answers are provided by editing the question and answer page.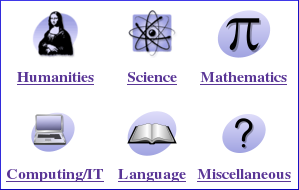 Almost a hundred questions a day are being asked. The tone is predominantly civilised, and many of the questions get good answers. You might say it's like Yahoo Answers without the yahoos.
Today's Miscellaneous questions include:
How do we stop our dog digging and chewing on the fence?
Who is this guy Crazy Lenny?
Did Maxwell Taylor have any injuries to his left hand prior to 1963?
What's this pattern called: CLAP (pause) CLAP (pause) CLAP CLAP CLAP
Conditions for a product to be numismatic
Furniture counterfeiting
What does "OK" stand for in "OK Corral"?
Looking for pictures or information on a relative who was born in 1893
Trying to find a word that describes a kind of fetish for words
Caffeine in cigarettes
Complexity of antlers
What is minute rice?
Naturally occurring monthly cycles
Difference between "random" and ">0" at bash.org
Translate English articles into Turkish
What does jjtc stand for?
Not very different from Google Answers, in other words!