EarthTrends Environmental Information is a comprehensive database maintained by the World Resources Institute. There's a massive amount of information available, including environmental data, economic data, population data, governance data, health data etc.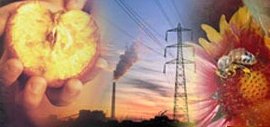 The information is grouped into ten categories:
Coastal and Marine Ecosystems
Water Resources and Freshwater Ecosystems
Climate and Atmosphere
Population, Health and Human Well-being
Economics, Business and the Environment
Energy and Resources
Biodiversity and Protected Areas
Agriculture and Food
Forests, Grasslands and Drylands
Environmental Governance and Institutions
For each of these categories, you can:
search the database to produce reports of the data that you need
see the data represented visually on maps
view pre-formatted summary data on a country-by-country basis
follow links to related feature articles
view or download tabular data
You can only perform three searches per day without registering, but registration allows unlimited free access.