Have you seen this dinosaur? It's a plastic toy, about 4 inches (100mm) tall, with spring-loaded 'hands' that can grip onto things, and legs that swivel.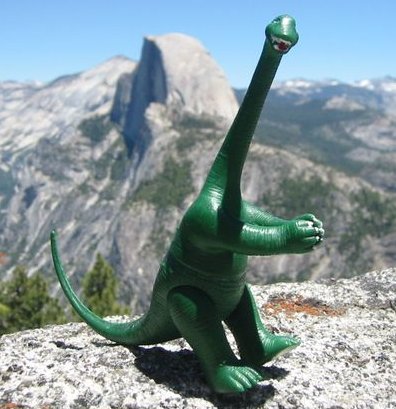 What's so special about Dinosaur Bob? Carl Jensen has owned Dinosaur Bob since he was a child, and has photographed him in front of famous landmarks, in twenty-five US states and four countries. Carl is desperate to have Dinosaur Bob back, and has offered a generous reward.
Bob was lost earlier this month at the Galleria shopping mall in Henderson (near Las Vegas). If Carl can't recover the original, he would be very happy to discover how he can get a replacement of the same design.
Bob has asked for help at Q&A service uclue.com, without luck so far.
Actually, this isn't the first time that Dinosaur Bob has gone walkabout. He also went missing in January 2005 during a flight from Chicago to Los Angeles. That time, Bob asked for help at Google Answers to no avail, but the Chicago Tribune picked up the story and a reader contacted Carl with a replacement.
Here's hoping the story will have an equally lucky ending this time!
(PS: This Dinosaur Bob is not related to the one in William Joyce's "Dinosaur Bob" book.)