Thursday, September 14th, 2006
The Royal Society has placed the complete archives of its journals online, dating right back to March 1665.
Access to the articles (as scanned PDFs) is free until December. After that, you can buy a reprint of the whole lot for a hefty £5071/$9866 – or view single articles online for a smaller charge.
To whet your appetite, here's wonderful piece from 1751: "An Account of Mr. Benjamin Franklin's Treatise, Lately Published, Intituled, Experiments and Observations on Electricity, Made at Philadelphia in America".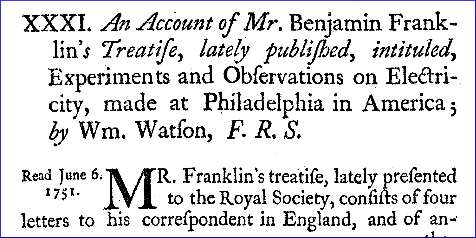 I also enjoyed "Account of a Very Remarkable Young Musician", a letter from 1769 referring to an 8-year-old Mozart.
(via The Register)